Posted on
October 10th, 2005
by The Baseball Zealot
According to the Houston Chronicle, Shaun Dean has to feel pretty lucky.  He not only caught Lance Berkman's grand slam in Houston's clincher over Atlanta on Sunday but also caught the game-winning homer hit by Chris Burke in the 18th inning.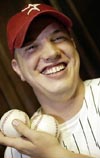 Dean has planned to give the balls back to Astros and most likely get cash and /or prizes in compensation.
No tags for this post.