Posted on
June 7th, 2006
by Teddy Ballgame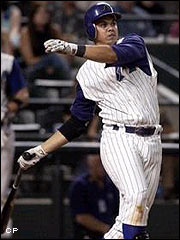 Starting White Sox shortstop Juan Uribe's wife went into labor with the couple's 4th child. As a result Alex Cintron got a chance to be the hero. And come through he did, with a three run blast in the bottom of the 8th off Fernando Rodney to turn defeat into victory, 4-3 Good Guys over the Tigers. Cintron said he figured Rodney out, "He was throwing fastball, changeup, fastball, changeup, so I sat on a fastball". Alex, a switch hitter, was batting lefthanded for the first time in the game, he hooked a line drive over the RF fence, it was his first with the Sox. Jenks came on for a 1-2-3 9th inning to save it for Brandon McCarthy, who pitched two scoreless.
After the game Teddy Ballgame & Nicky V took the Red Line El to 95th where Jocko picked them up, enroute to Harvey, to see some girls, pay them some money (a dollar at a time), and give the Devil his due on 6-6-6. We thought about playing six games of APBA Baseball (66 is the best diceroll in APBA), but decided to see the girlies instead. A bad night in Harvey, beats a good night just about anywhere else. Speaking of 6-6-6, did you see where the ANGELS spanked the DEVIL Rays? The scheduler had to have scheduled them to play each other on 6-6-6 on purpose.
No tags for this post.