Posted on
December 13th, 2006
by Teddy Ballgame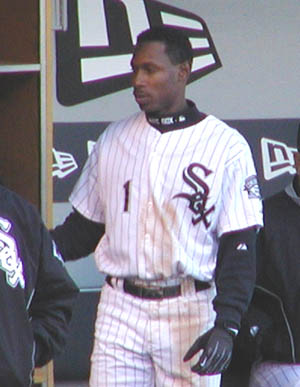 Kenny Lofton
I know the Chicago Cubs have said Alfonso Soriano can play centerfield, but actually seeing that happen might be another painful story. Last season the defensively challenged secondbaseman was switched to leftfield by the Washington Nationals. I guess the theory was to move him as far away from the play as possible, like the bad fielding kid in Little League, where can we hide him? Surprisingly Alfonso was the leader among NL outfielders in assists, not surprisingly NL runners ran on him every chance they got. Memories of Lonnie Smith, Ralph Garr, & El Caballo popped into my mind as I watched him attempt to catch flyballs. But seeing Soriano in CF seems to be coming closer and closer to reality.
Professional centerfielder & leadoff man Kenny Lofton signed with the Texas Rangers to replace Gary Matthews, Jr. and defensive wizard Jay Payton signed on with the O's to play LF. Either would have been a good fit on the Northside of Chicago, or the Southside for that matter. For those of you who have listened to Baseball Zealot Radio have heard me repeatedly say, "the Cubs should sign Kenny Lofton".
No tags for this post.