Posted on
December 13th, 2006
by Teddy Ballgame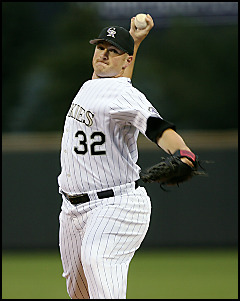 Jason Jennings
Most big league pitchers dread the thought of pitching at Coors Field in Colorado, but just when Jason Jennings seemed to solve pitching in the high elevation, he was traded to the Houston Astros for centerfielder Willy Taveras. Although Jennings is excited about going to his home state (he was born in Dallas), he can't be too excited about pitching at Minute Maid Park. Jennings hasn't had much success there. Jennings is 0-3 with a 10.47 ERA in three career starts at the Astros' home park.
This trade wasn't just a swap of a pitcher for a centerfielder, far from it! The Astros also parted with PCL Pitcher of the Year Jason Hirsh & righty Taylor Buchholz, while the Rockies tossed back reliever Miguel Asencio. Houston is looking for Jennings to step into the rotation in place of new/old Yankee Andy Pettitte. Asencio will add another hard throwing arm to their bullpen. Colorado didn't want to lose Jennings for nothing next year, he was looking for a contract extension. The Rockies made a pretty good deal for their veteran righthander picking up a leadoff man centerfielder with great speed in Taveras, a great pitching prospect in Hirsh, and another starter in Buchholz.
This was probably a similar deal to the one White Sox GM Kenny Williams was trying to get for Jon Garland. Too bad we didn't get it done, as a Sox fan I'd have like to have seen it happen.
No tags for this post.