Posted on
September 13th, 2006
by Teddy Ballgame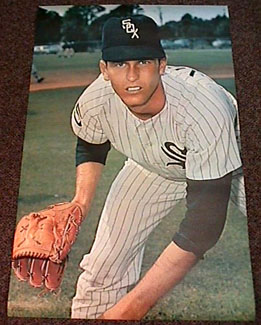 Tommy John was my favorite pitcher growing up. Today pitcher's shudder when his name is mentioned because his name is associated with season ending surgery to reconstruct the UCL. When Tommy had this surgery, performed by Dr. Jobe in 1974, Dr. Jobe stated John had a 1 in 100 chance of ever pitching again. He rehabbed for 18 months before returning to the hill in 1976. Most fans today remember him as a soft tosser, seeing him late in his career, after his surgery, but I remember this southpaw had a pretty good heater when he first came up. Tommy John pitched until he was 46 years old, winning 288 games, and his name will always be linked with Dick McAuliffe. In 1968 John was 10-5 with a 1.98 ERA, pitching for the White Sox, facing McAuliffe in August, 3-2 count, the pitch slipped & sailed over Tommy's head, Dick lipped as he headed to firstbase, and then he charged the mound. In the malay that would ensue McAuliffe's drove his knee into John's shoulder, separating it, and ending the lefty's season. Tommy John is also responsible for the White Sox still being in Chicago and not going to St. Petersburg, FL. The White Sox got Dick Allen in exchange for Tommy John following the 1971 season. Dick Allen had an MVP season in 1972 on the Southside of Chicago under the guidance of Skipper Chuck Tanner, hitting 37 homers, driving in 113, while batting .308, and bringing excitement to Comiskey Park.
Here are some rookies who might think the Baseball Zealot's Rookie Watch is a jinx.
9/13/06: Francisco Liriano tried to rejoin the Minnesota Twins in their playoff hunt. Liriano heard a pop in his elbow in the 3rd inning, ending his rookie season, and he may need Tommy John Surgery.
9/11/06: Houston Astro's Taylor Buchholz made his first start since 7/27, allowing five runs in 3 1/3 innings vs St. Louis. Taylor is 6-10 with a 5.95 ERA in 112 innings this year.
9/1/06: Jon Lester of the Boston Red Sox was diagnossed with non-Hodgkin's lymphoma, ending his rookie season. Jon went in to check out a pain in his back he thought was the result of an auto accident, this isn't supposed to happen to 22 year old youngsters. Lester will be treated with chemotherapy, wishing him a full recovery to good health.
8/28/06: The Pirates placed Tom Gorzelanny on the DL with tendinitis in his pitching elbow. He will return to the rotation 9/16, but will be limited to three innings.
8/23/06: The Chicago Cubs put Ryan O'Malley on the DL after Ryan felt a twinge in his left elbow in the 5th inning of his 2nd major league start. O'Malley pitched eight innings of shutout ball against the Houston Astros in his debut.
7/30/06: Casey Janssen was demoted by the Toronto Blue Jays after posting a 6-10 record with a 5.22 ERA in 17 starts.
7/28/06: Cubs lefty Sean Marshall was placed on the DL with a strained oblique. Sean started 9/12 against the Dodgers allowing seven runs, only three earned, in 3 2/3 innings. Marshall has a 5.34 ERA, a 5-9 record in 116 1/3 innings of work.
4/29/06: Brian Bannister was placed on the DL by the NY Mets with a strained hamstring. He was just activated 9/5 and may make a few starts before season's end.
Don't know if it's a curse, but I'm glad I'm not a rookie on the Rookie Watch, YIKES!
No tags for this post.