Posted on
December 20th, 2006
by Teddy Ballgame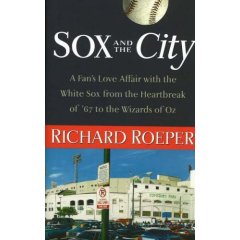 Sox and the City is a book I picked up for my friend CLuke's 50th birthday, but being a good Sox fan, he already had it. So I had to keep it for myself. It's a quick read, written by Richard Roeper of the Chicago Sun-Times and Ebert & Roeper, nothing against Roeper, but I miss Siskel. Gene Siskel used to sit by me from time to time at the Bulls games, he was a great guy! I'd highly recommend this book as a Christmas present for any White Sox fan you might have on your shopping list.
The book brought me back to the old Comiskey Park. I could almost smell the place (a strange combination of stale beer & whatever else that lingered in the bowels of the ballpark) as I leafed through the pages. Many of the memories that stuck in Roeper's mind were not his alone, in fact he struck common ground when he said, he remembered some of those games in his childhood better than the 2005 World Series.
My mind drifted to days gone by when Ken Berry roamed centerfield, Wilbur Wood was on the mound everyday as a starting pitcher (or so it seemed), Dick Allen hit two inside the park homers against Minnesota (Bobby Darwin was the Twins centerfielder), and the beloved South Side Hitmen of 1977. And I'll never forget Sox announcer Bob Waller criticizing lack of hustle after a particularly long season. Nor can I forget the Sox short pants uniforms! Oh and those rabbit ears, trying to fine tune UHF and rid Comiskey of snow on my black & white TV set. I'd write more, but I wanna get back to reading this delightful book.
No tags for this post.