Posted on
November 24th, 2006
by Teddy Ballgame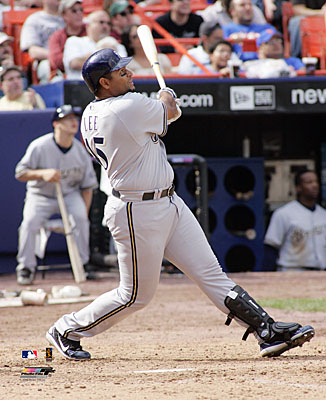 Carlos Lee
El Caballo has decided to stay in Texas, but not with the Rangers. Carlos Lee will be taking his act to the Houston Astros for really big money. Lee is a career .286 hitter with 221 homers, as a leftfielder, he's a pretty good hitter. In fact I don't know if there is a worse fielding outfielder in baseball, although three years ago he didn't commit a single error. That said Carlos seems to have gotten worse in the field as his girth has increased, he is a big man. It seems in life timing is everything, he inked a six year $100 million dollar deal, after putting up a .300 average, with 37 homers, and 116 RBIs last season for the Milwaukee Brewers and the Texas Rangers.
A side note is that Carlos Lee also plays for my Chicago Champions of the Illowa APBA League. Michael Point & Jim Pierce of Baseball America have invited me to come to Texas in 2007 for my yearly baseball trip. Now with Lee in Houston it looks like a more viable option, CLuke has indicated he's interested in joining NickyV and myself.
No tags for this post.