Posted on
September 10th, 2005
by The Baseball Zealot
My family and I went to see the opening game of the University of Illinois women's softball season.  They faced the cross-town Parkland Cobras.  The energy was already high at Eichelberger Field when we got there in the third inning as the Illini were already up 5-0. 
I have to admit up front, this is my first UI softball game.  Never made it to a game last year.  After last night's game, I see what I was missing.
Starting pitcher Kacey Coonce had her stuff going allowing only 3 hits and no runs in 5 innings.  She also went 2 for 3 with 2 runs and 2 rbis.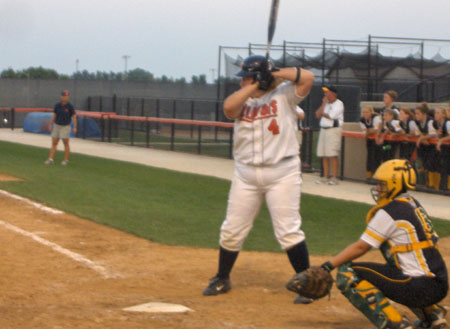 Yeah, she's big and burly… that's Jenna Hall, last year's All Big Ten selection for firstbase.  And in case you're wondering why…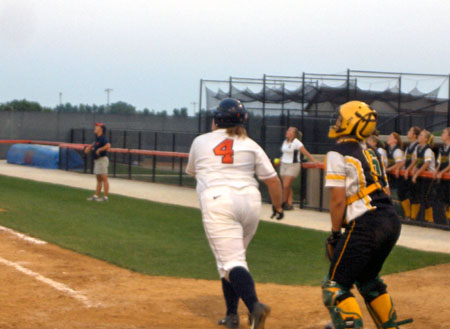 …I think the look on the Parkland catcher says it all.  She's watching the ball that Hall hit clear the right-centerfield fence. 
I enjoyed watching Hall.  She's definitely a team leader, giving teammates encouragement, watching the game, always part of the action.  As for her performance, she was 3 for 3, with a homerun, double and 3 rbis.  Good job, Jenna.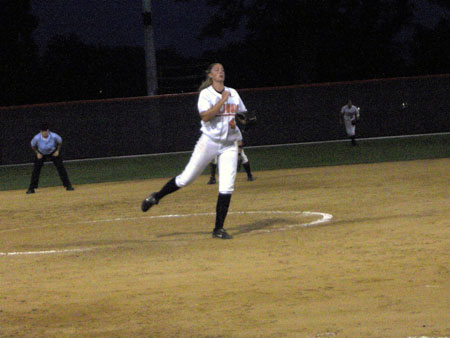 Jackelyn Diekemper came in relief with a 9-run lead.  She had a rough inning allowing 3 runs but I have to say she was fun to watch pitch.  She had a hard, fast pitch but was a bit off with her control last night.
As  it goes with two little ones, we had to leave early so we missed the 5 run sixth inning by the Illini.  Brooke Buzard shut down the Cobras in the final inning.  Final score:  Illini 14  Cobras 3
Congrats team!
No tags for this post.