Posted on
June 26th, 2006
by Teddy Ballgame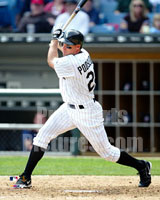 Scott Podsednik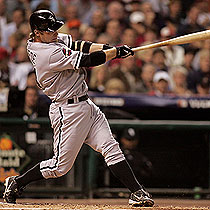 Joe Crede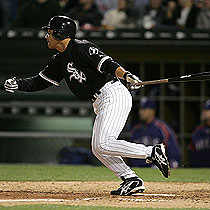 Tadahito Iguchi
Although the Chicago White Sox actually lost ground on the first place Detroit Tigers over the weekend, it was still a three game series full of excitement as Chicago took two of three from the Houston Astros. Believe it or not I didn't make it to the two wins. Friday was my Dad's 72nd birthday, we celebrated with dinner at Wishbone. Saturday we hosted the 56th Lindskoog Family Reunion. Sunday went to see a play with my brother, ate some sushi, before FINALLY hopping the El to the Cell. It was quite a comeback even though the White Sox eventually lost 10-9 in (unlucky) 13 innings. Houston had a 9-1 lead heading into the bottom of the 7th, as Roy Oswalt had it, and Javier Vazquez didn't. Astros skipper Phil Garner, feeling the game was hand, pulled Oswalt with a 9-2 lead through seven in favor of Russ Springer. After Springer allowed three hits to consecutive hitters in the 8th, Iguchi's three run home run being the third, it was a closer 9-5 ballgame. Houston closer Brad Lidge was brought on with a four run 9th inning lead, but Tadahito Iguchi's Grand Slam tied it up. Brandon McCarthy allowed the go ahead run in the 13th as ugly man Adam Everett hit a ball to RF off Ross Gload's glove, then a fan grabbed it, Everett was awarded a triple, and he scored on a Willy Taveras single to left.
Friday was the first of a three game series rematch of last Fall's World Series pitting Jose Contreras against Andy Pettitte. The Sox jumped out to a 2-0 lead when Joe Crede doubled home Jermaine Dye, and scored on Rob Mackowiak's RBI single. But then the momentum seemed to change when Chicago left Scott Podsednik stranded after a leadoff 3rd inning three bagger. Pettitte was on the ropes in the 4th as the Pale Hose loaded the bases with nobody out, but the crafty lefty retired the next two hitters leaving the sacks drunk, and up stepped Podsednik. Scott didn't hit a home run all last season, has one this year, but had two in the 2005 Playoffs & Series. He was Grand Slamless before this at bat, I did say was. Watching the game on TV I had a sense the Sox might not win if they allowed Andy off the hook again. They didn't as Scotty fouled off a bunch of pitches before driving one over the RF wall. Contreras allowed two Houston home runs and three runs in the 5th, another in the 7th, but the Sox scored again in the 8th, and Bobby Jenks pitched a 1-2-3 9th to nail it down for Jose 7-4. It was Jose Contreras' 16th consecutive regular season win without a loss, a White Sox record. Congrats Jose!
After enjoying a beautiful day for our Lindskoog Family Reunion, I came home, and flipped on TIVO to see what the White Sox had done. I must admit things didn't look good for our heroes, in fact I was pretty much zipping through the game on TIVO. Jon Garland and our boys were behind 5-1 heading into the bottom of the 7th. Houston rookie Taylor Buchholz had it pretty much on cruise control, but when two guys got on for Jermaine Dye I slowed TIVO down to watch the action. A few moments later after a Dye single to right Joe Crede stepped to the plate versus Astro reliever Chad Qualls. Crede took Chad's first pitch for a game tying Grand Salami, it was deja vu for Qualls as he allowed a first pitch Salami to the White Sox in last year's Fall Classic. You knew it was over in favor of the Good Guys, but I had to catch the WGN News to see the result. My TIVO ended after nine innings, but the game didn't. I switched over to live WGN just as they were recapping the game and I got to see the Sox win it in 10 when Alex Cintron plated the winning run, 6-5 White Sox.
Funny thing is I'm a vegetarian, but I sure did enjoy these Grand Salamis!!!
No tags for this post.