Posted on
May 8th, 2006
by Teddy Ballgame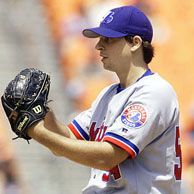 Cinco de Mayo, in only his 2nd start with the Nationals after being claimed off waivers from the Colorado Rockies, Day pitched a gem. And his first start with Washington was a 3-1 loss on April 30th against the St. Louis Cardinals. Zach Day was originally with the Montreal Expos before being traded to Colorado, so Day is back where he started, but in a different city. Nick Johnson paced the Nats offense with 2 two run homers, and Washington added a couple of more runs making the final 6-0. But the story was all about Day. Zach threw 66 of 105 pitches for strikes, picked up by Jon Rauch & Felix Rodriguez who each pitched an inning of scoreless relief to keep the donut alive.
Zach Day W 7 IP, 4 H, 0 R, 0 ER, 1 BB, 5 SO
No tags for this post.