Posted on
July 2nd, 2008
by The Baseball Zealot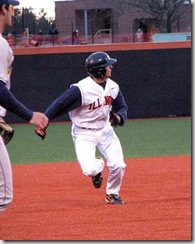 Illini secondbaseman Joe Bonadonna's summer has been quite tumultuous up north. The weekend after the amateur draft, Joe signed his release waiver from the Duluth Huskies where he's been a fan favorite for years. Huskies management turned in the waiver and despite that Bonadonna had expressed regrets, there was nothing the team could do according to Northwoods League rules.
Now, Joe Bonadonna has found a second life in the Northwoods League. Though league rules prevented Bonadonna from going back to the Huskies, there was nothing preventing another NWL team from picking the talented secondbaseman. And that's exactly what the Madison Mallards have done.
Bonadonna has been with Madison for three games now and is off to a decent start. So far, he's 3 for 10 with 3 walks in those three games. The Mallards are batting Bonadonna second in the lineup.
Bonadonna has quite a legacy at Duluth and unfortunately, his departure from the Huskies has evoked some bitter feelings among a few of the fans who feel he left them high and dry. Madison's two game series in Duluth next week should be interesting for Bonadonna.