Posted on
June 8th, 2007
by The Baseball Zealot

I'll admit it, I was all smiles when pick #1018 rolled past on the ol' Draft Tracker this afternoon. That was when the Detroit Tigers chose Illini shortstop Shawn Roof in the 33rd round.
And if you notice, his younger brother got picked a few rounds later by the Red Sox. No, not Eric, who plays for Michigan State (give him time), but his even younger brother Jonathon who got drafted right out of high school.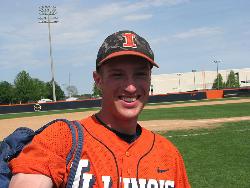 Anyway, I've said it before and I'll keep saying it… Shawn Roof is the most exciting player I've seen play at any level. His love of the game is quite apparent. His hustle on field is something I would love to see more of in pro ball so it thrills me that he got drafted.
By the way, if any of have not heard our interview with Shawn Roof on Baseball Zealot Radio, take a listen. It was one of our very first interviews we did and it remains my favorite.
As if being drafted wasn't enough, Roof also was awarded the Big Ten Outstanding Sportsmanship Award. He became a finalist a few weeks ago. His on-the-field efforts were amazing. Not only did he break records for single season and single game for stolen bases as well as single season and career hit-by-pitch, he ended his college career with a .303 batting average.
His off-the-field endeavors merit attention as well.
He also was a leader in the athletic department's Hometown Heroes, in which Fighting Illini student-athletes participate in various community service activities including visiting schools and hospitals. In addition, Roof made regular appearances at Illinois Kids Club events, including bowling nights and pizza parties.
Mmmm… pizza!
Knowing Shawn like I do. He was probably a hit with the kids.
Anyway, good luck in the future, Shawn!
No tags for this post.