Posted on
April 27th, 2008
by The Baseball Zealot
Saturday, the Illini went 1-2. Not every day that's going to happen.
My plan was to go the ballpark to see the Illini finish up Friday's game with the Nittany Lions and play their regularly scheduled doubleheader and was pleasantly surprised to see my buddy Brando had shown up to root on the Illini. I was a bit late so he filled me in.
The Illini had made quick work of finishing up Friday's game and even managed to score four runs to win 20-11. Daniel Webb wasn't satisfied with four hits on Friday so he added one more to 5 for 6 (with 5 rbis). Final score 20-11.
(4/27 Update:) Freshman John Schlichter broke a Big Ten record for the Friday/Saturday game. His 3 triples are the most by a Big Ten batter in a conference game. (thanks to reader Joe Dirt… I missed this). He also managed 5 rbis.
And that was pretty much last good news of the day.
Illinois got off to a quick 1-0 lead when Kyle Hudson scored on a wild pitch in the first but that was squashed when PSU LF Scott Kelley hit a two-run homer over the right field wall. It was 4-1 when Cory Wine (remember Cory Wine from last night?) did the same thing in the fourth.
So with the score 4-1 in the top the fifth I had to go pick up my kids from the parking lot from my wife who was dropping them off. I found the car, got the kids, came back to where Brando and I were sitting, looked up at the scoreboard and… it was 10-1!!! What!!! I swear I was gone 5 minutes, eight minutes TOPS! Four singles, and homeruns by Cory Wine and Scott Kelley (again and again) will do much to alter the balance of reality.
Rough outing for Aaron Martin
Starter Aaron Martin suffered the brunt of the first five innings. Martin can be hot (he had a scoreless innings streak earlier this season. Then he has games like this. Things didn't get a whole lot better when Wes Braun came in but the way Penn State was hitting today, I don't know who could have stopped them.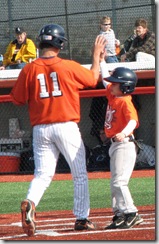 One highlight… Freshman Pete Cappetta (left), who is our backup shortstop, hit a three-run homer in the bottom of the seventh. That was his first career homerun. It may not have seemed to have meant much but it did give Illini fans something to cheer about in game which there was not much to cheer about. Thanks Pete!
Illini Numbers
Pete Cappetta: 1 for 2, HR, 3 rbis
Aaron Martin: 5 IP, 12 H, 12 ER, 2 BB, 3 K (L)
Final Score: Penn State 16 Illinois 5
The second game pretty much got off to same start as the first with the Nits getting off to an 10-4 lead by the top of the 7th inning. The Illini did make it interesting by scoring three runs in the bottom of 7th on two singles and two Penn State errors. But it was not enough and Penn State won again 10-7.
Illini Numbers
Aaron Johnson: 3 for 3, 2B, 2 runs
Ryan Hastings: 3 for 4, HR, 2 runs, 2 rbis
Well, the Penn State team that has hit 20 homeruns all year going into this weekend has suddenly found their stroke and has hit seven in three games. Not only that, the team that was second to last in Big 10 in runs scored has shown they can score 37 runs in the same three games. Is it conference motivation? The ever prevailing Illinois Field wind?
I have photos from the first game on Saturday. By the way, I noticed when uploading these pictures that I now have over 1000 photos of University of Illinois baseball dating back to last year (and including the 2007 Big Ten Tournament). If you're a fan, take a minute and browse through them.
Game 4 today at 12:05 today. Get out there and cheer the Illini!!