Posted on
March 5th, 2006
by The Baseball Zealot
Thanks to five shutout innings by Scott Shaw, the UI topped off the 3-game series against University of South Florida with a win to make it a sweep.  The Illini won by a score of 7-6.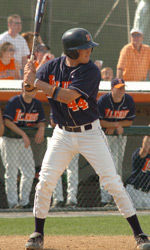 Shawn Roof, Ryan Snowden and Chase Kliment (each starting out well this season) had two hits each.
Says Coach Hartleb:
"I'm proud of how our guys fought back after last weekend to get back to .500," Illini coach Dan Hartleb said. "we moved the ball around the field and some people produced in positions they hadn't played yet."
No tags for this post.