Posted on
April 9th, 2007
by The Baseball Zealot
The cold winds blew but they finally got some games in. Illinois and Ohio State's games were postponed on Friday and canceled on Saturday but on Sunday everything went as planned. Well, everything except for the loss in the twinighter. More on that later.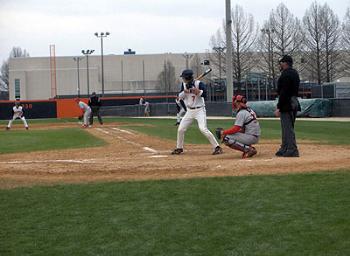 Batting leader Lars Davis up to bat in the first game
The first game was Friday's game which was postponed because of the cold and wind. That meant it was nine innings instead of the usual seven innings when playing a doubleheader. That caused some confusion among the fans even those who are knowledgeable enough to know the seven inning rule. But nevermind…
You could almost say Game 1 was divided into 3 sub-games. Innings 1-3 where the Illini got a 5-0 lead. Then innings 4-6 where Ohio State responded with by tying it 5-5. Then the last three innings when Illinois scored 3 in the 8th to put the nail in the coffin. Ohio State pitching just fell apart. A hit, a HBP, an error, another HBP, a walk, and a sac fly accounted for the three runs.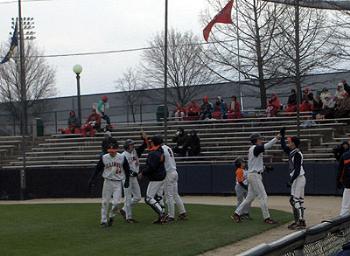 The Illini celebrate a run in Game 1
Ryan Hastings was 3 for 3 with 3 runs. Lars Davis was 2 for 4 with 3 rbis.
During the break, I chatted with J.B Shuck's father. J.B. Shuck played left field for the Buckeyes in the first game and (unbeknownst to me at the time) was the starting pitcher for Game 2. Anyway, I welcomed his father to the University of Illinois and we did the usual friendly rivalry bantering. He said he made it to all the Ohio State away games.
In Game 2, we had Scott Shaw going but boy, Ohio State seemed to have something to prove after Game 1. They scored five runs in the first two innings. The Illini made a valint effort, scoring four runs, bringing it within one but their bats kept hitting. They won 10-7.
Shawn Roof made the record books. In Game 2, he was hit four times, a school record. Ouch!
The guys may have wanted both wins but in my mind, a split with #25 Ohio State has to be considered a moral victory. Nice going!
Next up, Bradley at home on Tuesday. Free T-shirt to the first 50 students!!
No tags for this post.