Posted on
April 24th, 2008
by The Baseball Zealot
Next Game:
Games #38-41

Fri April 25 6:05pm

Sat April 26 3:05pm (DH)

Sun April 27 12:05

Record: 23-14

Big Ten 9-7

vs Penn State

at Illinois Field, Champaign, IL
Yes, I say every Big Ten series is important but this one kind of is.  PSU is a game back in the standings and soooo much can happen in a four game set.  We found that out against Michigan.
Fortunately, the chances of something like that happening again don't seem too likely.  We match up pretty well against Penn State.  As much as we play the small ball, I think we can say our power outmatches the Lions.  To date, they have only 14 homers and a .357 slugging percentage.  We've outscored them 269 to 190.
I probably shouldn't even be talking like that though.  They ARE just one game back, right?  And they have won six in a row.  Well, let's leave at this… The two teams' pitching match up pretty evenly so as long as we give our hurlers some support, I think we'll be ok.
And if you're interested in getting news from the other perspective, check out Penn State baseball's fan blog, Happy Valley Hardball.
Other News: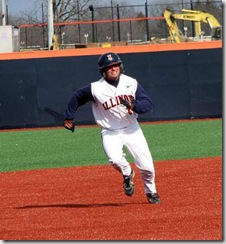 Joe Bonadonna (right) keeps racking in the awards.  In addition to his Big Ten Co-Player of the Week honor, Joe has just been named to the National All-Star Lineup as selected by College Baseball Foundation and Diamond Sports.  Joe, of course proved it was no fluke by rapping out 5 hits last night against Western.  For the season, he is hitting .391.
Which reminds me… four Illini starters are hovering around .400 mark.  Daniel Webb (.402), Brandon Wikoff (.394), Kyle Hudson (.392) and Bonadonna have been hitting the cover off the ball lately.  Webb also leads the team in homeruns with six.
Pray for good weather this weekend.
And here's the scoop on Penn State:
Opponent:
Penn State University
Nickname:
Nittany Lions
Conference:
Big Ten
Head Coach:
Robbie Wine (4th year)
Hometown:
State College, PA
Current Record:
17-21(8-8 Big Ten)
Baseball Program website:
Link
Players to watch:
Catcher Joe Blackburn continues to be a force for State.  He's hitting .342 and leads the team with 26 rbis.  Besides, he has a mean 'do.
Team Fact:
Head Coach Robbie Wine is son of former Philadelphia Phillies shortstop Bobby Wine.  Also, he coaches his son Cory who play first base for the Nittany Lions.
Assistant Volunteer Coach Sebastian Saraceno is son of Jon Saraceno, famous sports columnist.
See you at the ballpark!
Go Illini!!