Posted on
April 10th, 2008
by The Baseball Zealot

Centerfielder Kyle Hudson is hitting .404 on the season
Next Game:
Game #27-30

Fri April 11 6:05pm

Sat April 12 3:05pm DH

Sun April 13 1:05pm

Record: 18-8

vs University of Michigan

at Illinois Field, Champaign, IL
I'll say it right from the outset. Judging from the weather forecast, we may not get all four games in this weekend against Michigan. It's looking pretty dicey. We have a fighting chance to get a game in Friday night, though.
That all said, let's get some Blue! It's our first home Big Ten series of the year. Not only that, it will be our biggest challenge this season. We're one game behind the Wolverines and it's our chance to to show that we're for real.
Before the detractors tell us there's no chance, don't forget… Illinois managed a split last year against the Big Ten champion Michigan team. Nothing says that an Illini team that is obviously on a roll can't do better.
Don't look now but the Illini is leading the Big Ten in hitting with a tasty .334 batting average. Eight of nine starters are hitting .300 (the catching duo of Chris Montgomery and Aaron Johnson both have averages over .290). Kyle Hudson is still maintaining his .400 mark. Right now, he's hitting .404.
Illinois also leads in runs scored with 193 and are atop the conference in fielding.
I'm making an effort to bring at least one friend to a game this weekend who's never been to an Illinois game before. See you at the ballpark!!
LET'S GO ILLINI!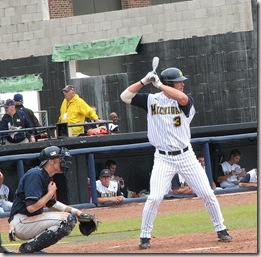 Wolverine Zach Putnam at-bat during the 2007 Big Ten tournament
Opponent:
University of Michigan
Nickname:
Wolverines
Conference:
Big Ten
Head Coach:
Rich Maloney (6th year)
Hometown:
Ann Arbor, MI
Current Record:
18-8 (7-1 Big Ten) #23
Baseball Program website:
Link
Players to watch:
Zach Putnam… he'll get drafted high, no doubt. He's hitting .323 with 25 rbis. On top of that, he leads the team (and 2nd in the Big Ten) with a 2.27 ERA in 5 starts.
Nate Recknagel leads Big Blue in hitting (.400), homeruns (10), and rbis (31).
Team Fact:
Michigan leads the Big Ten with a 7-1 conference record. That said, Illinois and Michigan have identical overall records (18-8).
No tags for this post.