Posted on
May 25th, 2006
by The Baseball Zealot
My hope that Illinois, riding a two-game winning streak, a streak that got them into the Big Ten tournament, would give them the momentum they needed to sweep through the tourney.  Gopher starting pitcher Cole DeVries had something to say about that.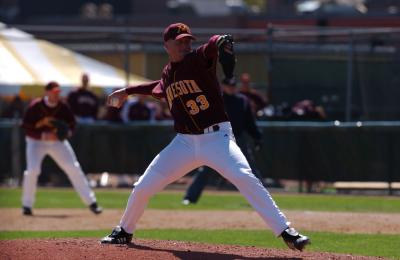 Gopher hurler Cole DeVries
You see, Minnesota was riding a streak of their own.  An eight game winning streak.  Well, make that nine now.  DeVries pitched 8 innings of one-hit ball allowing only one run.  Indeed, the only run the Illini scored was in the second inning on a walk, error and a sac fly.  Trevor Huisinga got the only Illinois hit in the 5th with an uneventful single.  The win puts DeVries at 7-3 for the season.
Matt Whitmore, sometime ace closer, sometime starter, didn't fare so well.  In 4 innings, Whitmore allowed four runs, three earned on six hits with only one strikeout. 
Final score Minnesota 8  Illinois 1
Read the recap from GopherSports.com
So Illinois' back is up against the proverbial wall.  They land in the loser's bracket and are facing Purdue who lost to Ohio State.  Game time is 12:05pm today.
By the way, I've put links to the Big Ten Tournament page and bracket on the left sidebar while the tourney is happening. 
Update:  Purdue has scored 4 in the 7th to jump ahead of Illinois 8-5.
No tags for this post.