Posted on
February 22nd, 2007
by The Baseball Zealot
Tomorrow night the University of Illinois baseball team begins their 2007 season!
They face the Ragin' Cajuns of Louisiana-Lafayette. It's a three game set with righty Scott Shaw taking the mound for Game 1. The Cajuns are 5-0 so far this year so this will be no cakewalk but I know the Illini players are rarin' to go and really want to start this season off right with a series win.
Good luck, Illini!!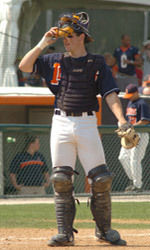 Chris Robinson in his Illini days
In other Illini news, I've been in email contact with former Illini catcher Chris Robinson. Last I heard from Robbie, he was packing to go to Spring Training.
Last year, he was drafted by the Tigers last year (83rd overall, highest ever by an Illini) then traded to the Cubs organization midseason. He finished up in single-A Daytona.
And now Robbie's on his way to his first Spring Training. Good luck, Robbie! Hit em where they ain't!
Correction: Commenter Roger correctly points out that Chris was drafted in 2005, not 2006.