Posted on
August 17th, 2007
by The Baseball Zealot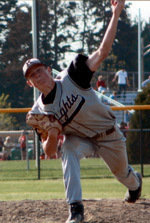 Casey Crosby waited and waited… and for his time, he was rewarded with a $748,500 contract from the Detroit Tigers. In addition, he got college tuition money for eight semesters.
One of the top pitchers from Illinois, Crosby had committed to the University of Illinois but was drafted in the 2007 First Year Player Draft by the Tigers. He was a fifth round pick and his high round status demanded a high contract. With time, the Tigers apparently agreed.
Mom's happy too. Denise Crosby is a managing editor at The Beacon News and she wrote an op-ed piece regarding her son's signing. Rather odd piece though in some parts. I'll let you be the judge.
Either way, I'm sorry that Casey won't be part of the Illini team next year but the silver lining is that he'll be a teammate (eventually) of Shawn Roof's.
No tags for this post.