Posted on
March 29th, 2007
by The Baseball Zealot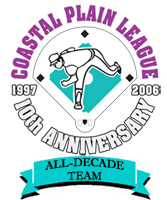 University of Illinois shortstop Shawn Roof received quite an honor this week from his summer college league. The Coastal Plain League named Roof to their All-Decade Team in celebration of their first 10 years in existence.
Not a big deal? Well, take a look at some of the players sharing the honor with Roof. Other names on the CPL All-Decade Team include Justin Verlander, Ryan Zimmerman, Kevin Youkilis and Ty Wiggington. Nice bit o' company.

Shawn Roof
Roof's qualifications in the CPL:
Fayetteville SwampDogs, 2005-06
• In 2005, batted a team-best .315 with 47 hits, 24 runs scored, two doubles, 18 RBIs, 49 total bases, a .446 on-base percentage, and 15 stolen bases
• In 2006, batted .268 with 44 hits, 37 runs scored, a double, 19 RBIs, 45 total bases, a .406 on-base percentage, and a team-best 20 stolen bags
• Career .291 batting average with 61 runs scored, 37 RBIs, and 35 stolen bases overall
• Two-time CPL All-Star: starting second baseman of the American CPL All-Star team in 2005 and starting shortstop of the American CPL All-Star team in 2006
Last December, Shawn was kind enough to grant Baseball Zealot Radio an interview. You can hear it during the second half of our fifth show.
Congratulations Shawn!!
No tags for this post.