Posted on
July 1st, 2008
by The Baseball Zealot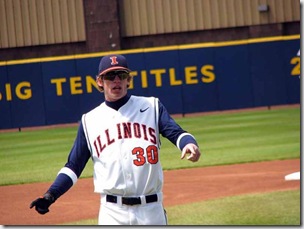 Hudson off to a good start with the Aberdeen Ironbirds
The 2008 Illini draftees have made a good impression so far in the minors. If the first couple weeks are any indication, they are in the pros for a while.
Former Illini and All-Big Ten centerfielder Kyle Hudson is at the Orioles' A farm team in Aberdeen. He's already off to hot start. He's hitting .280 (7 for 33) with 5 rbis with 7 walks. As he did with Illinois, Kyle is playing centerfield.
Scott Shaw, who was drafted by the Mets, is spending time with the Brooklyn Cyclones. In two starts and one relief, he's allowed two just runs in 14 innings. In those 14 innings, Shaw's KOed 18 batters.
Interestingly, one appearance (the relief in which Shaw got the win) was against Hudson's team, the Aberdeen Ironbirds, but Shaw didn't have the pleasure of facing off against his old teammate.
Finally, for those who remember the Illini from before this year, Tanner Roark was a All-Big Ten second team starting pitcher in 2007. Thanks to Tanner, we won the first game in the 2007 Big Ten Tournament against Iowa. Well, Roark was declared ineligible in 2008 because of his academics.
That didn't stop the Texas Rangers from taking a flier on Tanner in this year's draft. And so far, he's looking pretty good in the Rangers' team in the Rookie League in the Arizona League. Roark has been put in the role as reliever in three games. While three games and five innings is a small sample size, he hasn't allowed a run yet and has struck out six batters while walking no one.
Good luck to all!