Posted on
March 20th, 2007
by Teddy Ballgame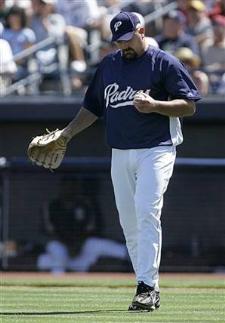 3/18: Saw the White Sox play the Padres in Peoria, AZ.
Peoria is alot farther than I'd remembered it being
from Phoenix, about 40 minutes. Got to the game with
tailgating time to spare before the game started. 95
degrees, very hot, but who's complaining, with beer in
the house. John Danks is competing with Gavin Floyd
for the 5th spot in the Sox rotation, Danks threw
better, but Floyd put up the better numbers. Adrian
Gonzalez, a lefty hitter, bombed one 460 to center off
the southpaw Danks. And leftfielder(?) Russell
Branyan hit an opposite field drive to left, two
(charged) errors on him. Boomer Wells got boomered by
the Southsiders to the tune of seven runs in three
innings, they weren't saying Boomer. Paul Konerko
nailed one to left and Ryan Sweeney rode one out to
right, late in the game. Good Guys two TD's, SD 7.
3/19: Went to see the Cubbies do battle against the
Brewers in Maryvale (Maryvale – see generic, no
frills, new ballpark, in bad part of Phoenix). The
beers were going down easy before the game. Wanted to
see three kids and saw all three, Ryan Braun, Felix
Pie, & Jake Fox. If I were the Cubs (thank God I'm
not) I'd play Pie in CF, Alfonso Soriano in LF, &
Jones in right. Alfonso was a no show, with Felix in
RF & Jacque in center, Murton was in left. There were
some 16 year old bikini clad girls hooting it up for
Matt, his face turned as red as his hair. Braun
fouled off three 0-2 pitches before getting all of a
three run bomb to center. Jake Fox (one of at least
six Cub catchers) was called out when an 0-2 pitch
crossed the plate. Final score 11-7 Cubbies over the
Brew Crew.