Posted on
April 8th, 2006
by The Baseball Zealot
Watched the Cubs game this afternoon… for 8 1/2 innings.  Comcast Sports Network went kaput with the Cardinals up in the ninth and one out.  When "Technical Difficulties… Please Stand By" flashed on the screen, I rushed to the stereo and tuned in just in time to listen to the Cubs win. 
Michael Barrett proved why he won the Silver Slugger by coming through with a timely pinch hit homer in the seventh to tie the game.  Ironically, it was other Silver Slugger from the Cubs, Derrek Lee, who hit the game winning homer.
Every win for the Cubs is nice but wins against the Cardinals are doubly important.  Tomorrow is Sean Marshall's MLB debut against the Cards.  I'm very interested in seeing how he does.  Hopefully, he learned a thing or two from his last start in spring training when he got rocked by the Pads.  A friend went to that game and got this shot of him warming up before the game.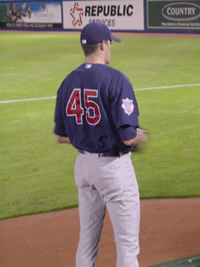 Meanwhile, the Sox have lost 4 in a row.  Including two against KC.  This may have been the year I should have bet a $1/game Cubs vs. Sox against Teddy Ballgame.  Not last year.  Maybe it's not too late.
I know it's early in the season but who would have thought that the two unbeaten teams left would be Detroit and Milwaukee?  Not I.