Posted on
July 12th, 2006
by The Baseball Zealot
Thank you sooo much, Joey Cora, for disabling yet another Cubs pitcher with your errant bat before the All-Star game. That's what the Cubs need right now. It's not like we have a ton of good arms on the Cubs right now.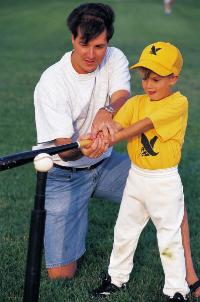 "Whoa, that's not a weapon there, Joey Cora"
And it's not like the Cubs fans need another focal point on the Sox. We have plenty of those already.
Zambrano missed the All-Star Game and is questionable for the next one or two starts. That's quite a mighty swing you have for a fungo.
Easy with that bat, Mr Cora.
Update: Zambrano assures us he's ok and is scheduled to make his start on Saturday.
One observation: If Zam hits a homerun on Saturday, he will be tied for 5th on team. Ugh.