Posted on
March 29th, 2007
by Teddy Ballgame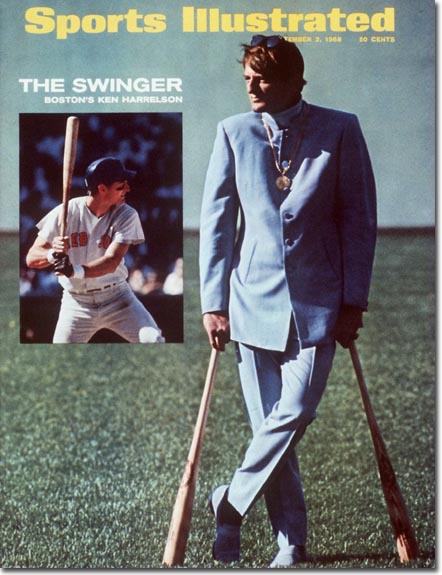 Hawk Harrelson
I know the real season hasn't started yet, but I know bad when I see it and when I hear it. The Chicago White Sox are bad, or at least that's the way they've been playing in preseason. Every team has its share of youngsters their trying to get a look at and the veterans are working on things, so it's hard to get a true evaluation. But thus far the White Sox have been getting their butts handed to them. I watched yesterday's game between the Sox and the Diamondbacks after watching the Sox lose to the Angels in a previous contest, and it's not even close.
And those two buffoons in the broadcast booth! Sheesh could they be any more homers than they are! I mean a White Sox hitter will strikeout and Hawk will comment, "Look at the rip he took" and then when an opposing hitter knocks one over the wall he'll say, "The wind really got a hold of that one". Well it's not about the wind, the sun, the light desert air, the youngsters, the veterans, or anything else – it's about results. I understand these games don't count, except that they do count in that, they get the team ready for the regular season. And unless I'm missing something, this team is not ready.
Hawk defended Ozzie for playing Toby Hall at firstbase, where he tore his labrum, and will be lost for the season, saying, "Hall has played the position before and will be expected to play it during the season to spell Konerko from time-to-time". Toby Hall played five innings at firstbase in 2005 and one inning at thirdbase in 2006, other than that, the only position he's ever played in the majors has been catcher. He was a good catcher behind the plate and sported a .265 career batting average. He was going to be an important piece to this upcoming season before he played(?) firstbase.
Another thing about the Hawk! Does anybody out there other than the Hawk and his sidekick DJ (aka Charlie McCarthy) really believe catchers still call the game? Every major league game I've seen in recent memory, the catcher looks into the dugout before every pitch, getting the sign. It is so irritating to hear these two goofballs talk about flashing digits.
Trading Brandon McCarthy was one thing, but trading Freddy Garcia is another. Garcia was our #1 starter, our ACE! We gave him away for Gavin Floyd (the Barber) & Gio Gonzalez. Floyd has been given numerous opportunities to prove he can pitch at the major league level, so far he has not. Again this year he's being demoted, beaten out by a minor league pitcher who's never had a winning season in the minors. I guess trading our #1 for Floyd didn't somehow make him better. We thought so highly of Gio Gonzalez that we gave him to Philly as a throw in, in the Aaron Rowand for Jim Thome trade. Garcia is a gamer! We should have dumped Javier Vazquez.
But these latest roster moves have been the topper! Sending Boone Logan down, beaten out by Andrew Sisco, was ridiculous. Logan hadn't allowed a run all spring, while Sisco (surprise) was wild. Still we traded Ross Gload for Sisco, so we had to keep Andrew, tough break Boone. Another guy we let go was veteran Eduardo Perez. I was really looking forward to seeing Perez come off our bench in a key spot, in the late innings, with the game on the line, and coming through. Good luck sending Brian Anderson or Gustavo Molina up to the plate in one of those situations. Also Eduardo could've spelled Paulie at firstbase from time to time.
After seeing what it takes to get the job done, I'll be surprised if this year's team has the right stuff. But thankfully for me as a Sox fan, it's not all about winning championships, if it was I'd have been long gone, since starting my rooting interest in 1968. But still there's the nagging what if & wasted opportunity that gets to me. Don't worry I'll be out at the Cell alot this year trying to cheer my guys on to victory (three games in the first week). Maybe if I yell louder, or drink more beer!