Posted on
March 30th, 2006
by The Baseball Zealot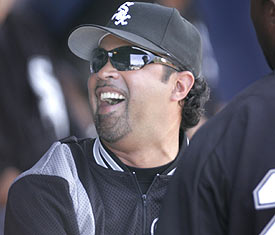 MLB.com had a Q & A with Sox manager Ozzie Guillen.  When I read these kind of things, I wonder to what extent does it have to be approved by team and league management.  That said, I thought it was thoroughly Ozzie and therefore interesting.
Some excerpts:
MLB.com: Kenny Williams?

Guillen: Crazy. He hired me as a manager. Kenny is a guy who also is underrated. Anything he does since he got the job is because he's trying to win. You look around at the players Kenny brings here and the trades he made, he just wants to win. Kenny and myself will both tell you the truth, whether you like it or not, and I think I can live with that.

This man did a lot of things in his power to get this ballclub better.

MLB.com: How about Frank Thomas?

Guillen: He's the best player ever to play for the White Sox. That's it. He was one of the best hitters I've ever been around. People don't appreciate him in Chicago, and maybe that's his fault. But he did a lot of good things for the city.
and this one I particularly liked:
MLB.com: Final question for you: Where is Ozzie Guillen going to be 10 years from now?

Guillen: Managing the White Sox.
Yeah, I'm a Cub fan but I gotta say I like Ozzie's style.