Posted on
April 6th, 2007
by Teddy Ballgame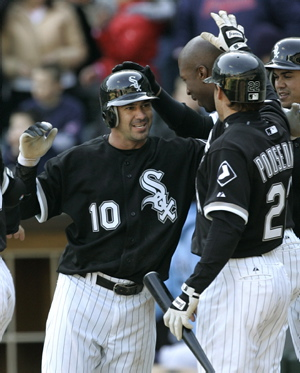 A.J. Pierzynski
I was in Waupaca, WI for the White Sox home opener. Although the weather was nice, that was about the only thing nice about the opener as the Indians scalped the White Sox 12-5. The weather wasn't nearly as nice for the 2nd & 3rd games of the season, but a friend had a ticket for me, so down to the Cell I would go.
After getting up at the crack of dawn, driving four hours into the city (listening on the radio for a possible postponement, that never came), it was time to board the Red Line (a familiar route) to Sox 35th. I picked up my ticket at Will Call and headed to the Stadium Club, the temperature was in the low 30s so watching from the comforts of the SC wouldn't be bad at all. But all the good spots were taken or reserved long ago, turns out you need to reserve your spot two weeks in advance was what we were told, the reality is, we just weren't big enough fish. I should have pulled rank by saying I was with the Baseball Zealot, but didn't. So it was time to join my usual post next to Nancy Faust, behind home plate. Lots of friends were waiting for me, it was good to be back home again.
Thanks to Jim Thome's early three run blast the Good Guys were up, but that wouldn't last as Grady Sizemore ripped a two run homer off reliever Matt Thornton to give the Tribe a lead they wouldn't relinquish. The Sox Gooched up a chance to play small ball, when Tadahito Iguchi popped up a bunt attempt to move A.J. to 3rd after Pierzynski's double, and then PHer Alex Cintron & Scott Podsednik didn't come through. Still we had a chance when Joe Crede hit a ball to the leftfield track with two on & two out in the 9th inning, but Jason Michaels made a stumbling grab as he fell to his backside. He hung onto the ball and the Sox were down 0-2 on the new year. Walking to the car my hands were so cold that I was actually almost crying as I got to the car at 31st, my hands were frostbit as a kid. We still managed to get to Bertucci's on 24th and were able to drown our sorrows in pasta.
We were kidding, saying we were gonna keep coming out there until the Sox won. I was REALLY hoping not to be at the Cell on Easter! Mark Buehrle was on the bump for the Southsiders and I was expecting a quicker game in the sunshine of a mid 30 degree day, less wind too, it's something what perception will do. Before I was able to get my garden burger to my station by Nancy, Grady Sizemore hit a leadoff homer off Buehrle (here we go again, oh, did I say that out loud?), Sizemore was on a pace with three homers in three games to hit 162 for the season, which ain't bad. Then Garko lined a ball off Buehrle's forearm and Nick Massett was brought on to pitch some long relief.
After 8 1/2 innings of play the game was all tied up. The Sox loaded the bases with nobody out against Roberto Hernandez, who nicked A.J. on the elbow with an inside pitch to force in the winning tally. Truth be told Pierzynski might have turned into the inside pitch, he might not have even been hit with the pitch, but he sold it to the umpire, and the White Sox had their first W.
Massett pitched well in relief. BIG BAD Bobby Jenks got the win. And Mark Buehrle is not expected to miss a start.