Posted on
April 11th, 2007
by Teddy Ballgame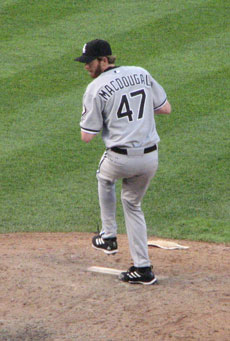 Mike MacDougal
After watching the Cubbies lose at Wrigley and watching the Bulls humiliate the Knicks & Isiah Thomas at the UC, it was time to turn on the TV and watch my White Sox do battle with the A's in Oakland. Ever since the dynasty years of the A's it has never been a good experience playing in Oakland, not better here, truth be told. So I don't know what I was expecting, there was some doubt, but after the night before's grinder-like win, who knows.
Chad Gaudin & Jon Garland were locked in a pitcher's dual. Just as I pulled into my driveway Chris Singleton was describing how Juan Uribe hit it, just like it was pitched, in delivering his RBI basehit past Nick Swisher. Then when I got inside the house I saw Garland strand a leadoff triple, and things were looking good. It looked like the Sox were going to add to their lead when the laid back Alex Cintron hit a popfly off Mark Ellis' glove, the ball bounded away, and remarkably Cintron was on 3rd with nobody out, but he was stranded there, so much for little ball.
Garland was really on his game, surrendering three hits over seven scoreless innings, before giving way to Mike MacDougal. MacDougal worked a perfect 8th, before BIG BAD BOBBY JENKS entered the game to close it down in the 9th, or not.
Jenks hasn't hit above 92 MPH on the radar gun this year, and although neither Hawk nor (his sidekick Charlie McCarthy) DJ will admit it's a problem, it is. When Jenks is throwing 100 mile an hour fastballs, it's intimidating, when he's not, he's very hittable. Milton Bradley drove a single up the middle, Mike Piazza followed with a basehit to left, but then Jenks bounced back to fan Eric Chavez & Nick Swisher. Then old nemisis Todd Walker, the former Minnesota Twin, pinch-hit for Bobby Crosby, and came through with a game tying base knock to left. Scott Podsednik charged the ball, threw home, but really had no chance to get the runner at the plate. Both Marco Scutaro (who was running for Piazza) and Walker moved up on the throw. Travis Buck was walked intentionally, setting up Mark Ellis' game winning drive off the leftfield fence. In 2/3 of an inning Jenks allowed four hits, walked one (intentionally), struckout one, and let up two runs (all they needed to win).
I said this to anyone who would listen as I watched Bobby struggle in spring training, Jenks will be out as the Sox closer before 40 games this season. The only way for this big guy to be effective is to blow people away with his 100 MPH heat, 92 just doesn't cut it. Mike MacDougal, who has closed for KC in the past (27 saves in 2003 & 21 saves in 2005), should be able to step in and get the job done. The sooner, the better, in my opinion.