Posted on
June 8th, 2007
by The Baseball Zealot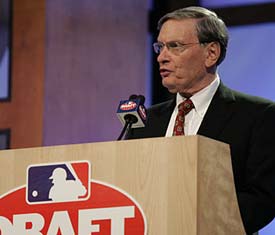 Selig announced the picks until it wasn't exciting anymore
Wow! David Price was the number one pick. Who saw that coming?
Ok, be honest how many of you followed the draft? I know some hard core baseball fans who would just as soon rather pass on that but I find it fascinating. I had the Draft Tracker non-stop and Baseball Channel going in the background at least for the few rounds when they were actually covering the the draft.
After that, I put on the Press Room coverage which would had the teams announcing their picks. It kinda reminded me of national party convention convention on election years. You know, like "From the great state of Illinois, home of Adlai Stevenson etc etc". Only here, it was more like, "For pick 1183, the Boston Red Sox pick Roof, Jonathon, St Mary High School from Paducah Kentucky, and it should be known that Jonathon is the son of Gene Roof and the nephew of Phil Roof". Lots of protocol… and pomp and circumstance.
I love s–t like that.
Speaking of which, there was a lot of generational stuff going on. MLB.com has an article about some of the draftees and who in the baseball world they're related to but right now, it's only through the first day. My god, there were a lot of sons and nephews and grandsons drafted, Brook Jacoby's son was drafted as was Chuck Tanner's grandson. Greg Vaughn's son, Cory was drafted. Now that makes
me feel old.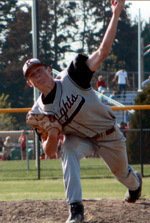 Casey Crosby
Illini fans take note: Casey Crosby, Illinois' prized recruit from last year who was rated number one in the state, was chosen 181st overall. Crosby has already said he's looking toward the pros. A decent contract could mean the end of any relationship with the Illini. And the fact he was chosen so high (by Detroit, by the way) is a good indication that they are serious about signing him.
Speaking of Detroit, I think they were probably wetting their pants when the 27th pick came to them and Frederick Porcello was still available. I think they were lucky to get him that low.
For more info check out MLB Draft Central
Followup: An Ernie Banks was drafted. Anyone have a clue if he's related to Mr Cub?
No tags for this post.