Posted on
March 4th, 2008
by Teddy Ballgame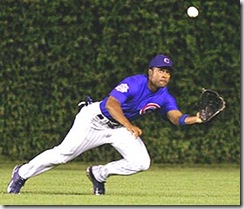 The best laid plans of mice & men don't always go according to plan. Today I was going to watch the Minnesota Twins play the Tampa Bay Rays in St. Petersburg. St. Pete's about 45 minutes south of my hotel, there's a 60% chance of severe thunderstorms, and I didn't buy a ticket in advance for today. So I'm going to do something I don't always do, I'm going to be smart, catch up on things around the hotel, and prepare for my tomorrow flight back to Chicago, brrr.
Just read in today's USA Today where the Cincinnati Reds signed Corey Patterson & Jerry Hairston, Jr. These two former Cubs join their former Chicago skipper Dusty Baker in the Queen City. For some reason I have a strong feeling the Reds will break their seven losing season streak and actually win the NL Central, despite having Baker at the helm. I was actually thinking of betting on the Reds until I learned Dusty was the team's manager.
Now it seems even more unlikely that I'll make this sucker bet. Baker said, he wanted the club to sign either Kenny Lofton or Corey Patterson as a centerfield candidate and leadoff man. Well there's alot of difference between Lofton & Patterson. Corey has a .298 career OBP, not something you'd want in a leadoff batter. Sparkplug Ryan Freel still seems to have the inside track on the CF job. Adam Dunn is cemented in left, have you ever seen him play the outfield? Junior's in right, but whether he'll remain healthy all year is a question that has yet to be answered. My guess would be that the signing of Patterson has more to do with Jay Bruce. Jay will probably start the season in Triple-A and then be called up after the All Star break to replace an injured Griffey.
Everybody knows the Reds have a very good offensive ballclub, the addition of Joey Votto at first, will do nothing but help their already impressive lineup. But pitching seems to be where this year's Reds have really improved themselves. Aaron Harang & Bronson Arroyo are as strong as anybody's one/two at the front of their rotation. Josh Fogg brings veteran leadership to the middle of the rotaion. I know the other two spots are slotted for Jeremy Affeldt & Mike Belisle, but Homer Bailey & Edison Volquez are a couple of youngsters who've got me excited. Am I starting to talk myself into betting on the Reds?
Adding a closer in Francisco Coco Cordero is a move that needed to be made. Setup men David Weathers, Jared Burton, & Todd Coffey are still there, along with southpaw Mike Stanton. Kent Merker & Scott Sauerbeck are also competing for lefthanded spots in the pen. Then there's youngster Johnny Cueto, don't if he's ready yet, but he has a lively arm, and would be a welcome addition to the bullpen.
No tags for this post.