Posted on
August 5th, 2007
by The Baseball Zealot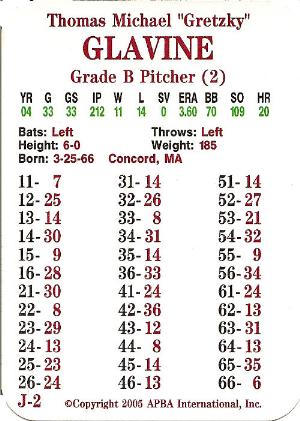 Tom Glavine's 2005 APBA card
At 7:05pm CT tonight, Tom Glavine will face the Chicago Cubs at Wrigley Field to make his attempt at 300 wins. It will be a difficult game for me to watch.
Of course I'll be rooting for the Cubs. That's what makes it so difficult. Tom Glavine has been a favorite of mine for a long time. You see, Tom Glavine is on my team in the Illowa APBA League
I hear some of you snickering out there. Before you judge, consider this. This is no fly-by-night web-based fantasy league. I've had Tom Glavine on my Twin City Thunderchickens since he was a throw-in in a trade in 1990. I traded Kirk Gibson (near the end of his career) and Pete Smith (who?) for Glavine. I think Melido Perez was the other player involved on my end.
Of those players, Perez and Gibson played until 1995. Smith didn't even last a year. And Glavine… well, it's 16 years later and he's still a Thunderchicken.
Since then Glavine has become a favorite of mine.
So me being a Cubs fan, you see how difficult this is for me. It would have a hard enough time any other year. But tonight with the added factors of Glavine going for 300 plus the Cubs being 1/2 games back. Yikes!
Oh, Glavine's career IAL record? He's 229-174.
Go Cubs!