Posted on
November 20th, 2007
by Teddy Ballgame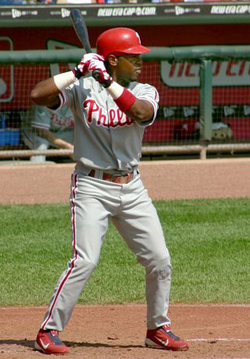 Jimmy Rollins – 2007 NL MVP
Philadelphia Phillies shortstop Jimmy Rollins was named NL 2007 MVP. Rollins had an incredible year! Jimmy batted .296, 41 steals, 212 basehits, 38 doubles, 20 triples, 30 homers, and was named Gold Glove SS. The 5'8″ switch hitter started all 162 games, had 716 at bats, scored 139 times, and drove in 94 runs (mostly as a leadoff man). He follows fellow Phillie teammate Ryan Howard who was MVP in 2006.
Rollins is also a member of the Chicago Champions of the Illowa APBA League. He joins Champion teammate Alex Rodriguez as winners of the 2007 MVP Award. Other recent MVP Award winners on the Champs include 2006 AL MVP Award recipient Justin Morneau and 2005 AL MVP Award winner ARod. With all this talent it won't be long before the Champions are back at the top of the IAL where they belong. In the 30+ years of the IAL History the Champions have won ten World Series Titles, but none in over the last ten years.
The highest paid player in the history of the game Alex Rodriguez totally earned his paycheck when he had a career year in Pinstripes. ARod batted .314, with 54 home runs, 156 RBI's, and scored 143 runs. The slugger also stole 24 bases, had 31 doubles, walked 95 times, his onbase percentage was .422, and he did a pretty good job at the hot corner. I've been a big fan of Rodriguez' since seeing him on Alex Rodriguez poster day when he played SS for the Appleton Foxes of the Midwest League in 1994. I still have that poster on my wall, as well a an A-Ball card he signed for me that night, actually paid the batboy $5.00 to get the signature, felt kind of funny getting an 18 year old kid's autograph.