Posted on
June 14th, 2008
by The Baseball Zealot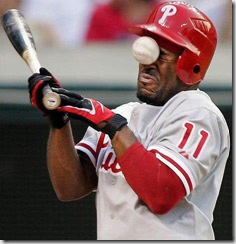 Every year, I bemoan the number of injuries in baseball, thinking they must be more than the year before. Once again, I find myself thinking the same thing. Atlanta alone has 12 players on the DL.
Not to minimize the pain and stress that injuries cause the actual players. They do. But Right now, my APBA team is suffering with DL-itis.
At this moment with a little creativity, I could make a full starting infield of starting players who are on my APBA team and are also on the MLB disabled list.
C: Jason Varitek is out with strep throat. Fortunately, he's day-to-day.
1B: Albert Pujols. Yeah, Albert. And people laughed at me when I drafted Mike Jacobs two years ago. "You got Pujols. Whaddya need him for?"
SS: Troy Tulowitski. Tulo was my prized first round rookie pick this year. He'll miss almost 2 months already with busted quadriceps. But no worry, he's capably backed up by…
SS: Julio Lugo, who is out with the flu. Like Varitek, he's day-to-day.
3B: Ryan Zimmerman. I got Zim from DonS in a trade for Huston Street. I was pretty happy with the deal till June 3 when he hurt his shoulder. A recent MRI says he's 4-6 weeks away from returning if he comes back at all. He may just be out for the season.
and finally,
SP: Tom Glavine: Mr Thunderchicken, who's been on my team since the early 90's and never been hurt till this year. Glavine has been hurt twice for the Braves and this last elbow injury may put him down till August.
Here's hoping I have plenty of draft picks next year.