Posted on
July 23rd, 2008
by The Baseball Zealot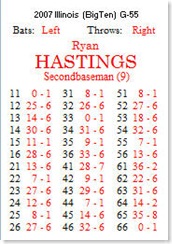 My buddy CLuke purports to not care so much for college baseball but I'm beginning to think otherwise. Every time I hear from him, he's talking about something related to the topic.
This time it's pretty exciting. Not only is it about college baseball but it pertains to another baseball interest of mine… APBA.
Chuck pointed me to Steve Guthrie's web site. Steve has custom-made APBA baseball cards based on the 2007 NCAA season.
Wow!
Steve pumped in the stats to Brian Davis' APBA Card Generator for most of the Division I teams in the NCAA. There are nine sets available:
Set 1: SEC, Atlantic 10, Wright State, Hawaii-Hilo
Set 2: ACC, Ohio Valley, Oral Roberts, Bethune-Cookman, Florida A and M, North Carolina A and T, Dallas Baptist, Prairie View A and M
Set 3: Big XII, Sun Belt, Mountain West
Set 4: PAC-10, Missouri Valley, Southern
Set 5: Big East, Ivy League, America East, Texas-Pan American
Set 6: Conference-USA, Colonial, West Coast
Set 7: Big West, WAC, Metro Atlantic, Army, Navy
Set 8: Big 10, Big South, Atlantic Sun
Set 9: Southland, Mid-American, Illinois-Chicago, Lafayette, North Dakota State, South Dakota State
Each set is available for download from Steve's web site and can be printed with minimal configuration.
Me? I got the Big Ten :)
---