Posted on
November 8th, 2006
by The Baseball Zealot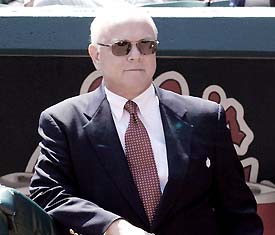 Jocketty: Liked to roll dem bones
A Star Tribune article about St Louis GM Walt Jocketty includes a revealing fact about him.
Actually, he came here to do what he did Friday — win a championship. That's been his goal since he was a kid growing up in Minneapolis. He and a buddy named Vic Perlbachs would play a baseball strategy game called APBA — American Professional Baseball Association.

"That's how I first knew I wanted to get into this business," Jocketty said.
Well, that speaks volumes. He had plenty of practice as a young lad before getting into the business.
Many of us APBA players, especially those who play in leagues, fancy ourselves as managers, GMs and owners all rolled into one. Sometimes (a lot of times) we think we could do a better job than some of those who get paid to this work. Jocketty must have taken his love of the game and taken to the higher level when he "grew up".
Jocketty isn't the only baseball person who has played the game of APBA. It is known that Joe Torre and Curt Shilling play or have played the game. Supposedly, George W. Bush is a fan of the game.
Further on in the article, Jocketty talks about the moves he made as GM with the Cardinals (emphasis mine):
Twice he's been named baseball's executive of the year. He's built teams that have won 105 and 100 games. He was instrumental in bringing in manager Tony La Russa, with whom he worked in Oakland. He has traded for Mark McGwire, Scott Rolen, Jim Edmonds and Chris Carpenter; he signed David Eckstein and presided over the rise of Albert Pujols.
Well, Walt and I have one thing in common.