Posted on
November 27th, 2006
by Teddy Ballgame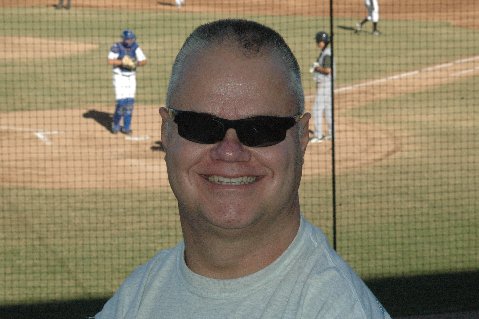 Teddy Ballgame Chillin' in the Sunshine
Picture courtesy of Jim Pierce – Baseball America
Here I am out in beautiful Arizona, without a care in the world, also without a jacket. One thing I might have overlooked is that it gets cold in the desert at night. This Wednesday in Scottsdale was the only night game of the four games I was scheduled to see. Before the game stopped at Don & Charlie's Resaurant & Lounge on Camelback in Scottsdale for a beer. I highly recommend this place, ran into Jim, he said I should just say, I'm a friend of his, and Brooke, his daughter will set me up, nice guy. The place is decorated with all kinds of baseball and other sports stuff, including a mural of the 1969 Chicago Cubs. Got to the ballpark relatively early, but the parking lot was pretty full as it was a night game, still it's the AFL so my place behind the plate was waiting for me when I arrived. Sitting off to my left were my scout friends Marteese Robinson from the Cardinals & Phil Rizzo from the Los Angeles Dodgers. Kevin Frandsen was awarded the Dernell Stenson Sportsman of the Year after the batboy sang the National Anthem and we were ready to play ball.
Scottsdale Scorpians stars of the night were CF Jerry Owens (CHW) had two singles, was really safe at first a 3rd time, stole a base, & drove in a run, DH Ryan Braun (MIL) drove a ball to the wall in right & singled to left, to go along with a couple of Ks, P Mike Schultz (ARZ) the 6'7″ righty clocked in at 91 MPH, striking out four, allowing one single, and 6'8″ righthander Adam Russell (CHW) got knocked around for a few basehits, but did strike out three, picked a runner off first, and tipped the radar gun at 93 MPH, he also shares a birthday with me, Greg Maddux, & Pete Rose – April 14th. It should be noted that Sportsman of the Year Kevin Frandsen dropped a loud "F" bomb as a flew to centerfield on his 2nd at bat of the game.
The Mesa Solar Sox topped Scottsdale 5-2 and here were their stars. RF Brooks Conrad (HOU) got a couple of hits, including an RBI double, C A.J. Ellis (LAD) got two singles, an RBI, a walk, & a K, 2B Eric Patterson (CHC) was three for five with a stolen base, SS Matt Tolbert (MIN) made a nice play in the hole and beat out a bunt, this kid can fly, P Jonathan Meloan (LAD) this righty topped out at only 86, struck out only one guy, but worked three perfect innings for the win.
Noticed some kids lined up to get autographs from some guy in the stands, turns out it was Eric Patterson's big brother Corey the centerfielder for the Baltimore Orioles.
Then saw AFL visionary Roland Hemond Chicago White Sox Exec on the way out of the ballpark. He waved a friendly goodbye, said it was nice seeing me again, I told him to stop by Nancy Faust at the Cell in the summertime to say hello, he said he really doesn't get to Chicago all that often anymore. Roland is one of the really good guys in baseball and it's always a pleasure to see him.