Posted on
November 3rd, 2006
by The Baseball Zealot
So what have you been doing since the World Series ended? Our kids are happy to have the TV back during prime time hours now that the postseason is over.
MLB has turned the post season awards into a postseason "season". You can't tell the awards without a schedule. If you don't believe me check out their MLB awards page. All the awards are neatly spaced by a couple days in order of "importance" (i.e. media ranking).
Anyway, AL Gold Gloves were announced yesterday, There were the usual standbys and a surprise or two.
C: Ivan Rodriguez, DET

1B: Mark Teixeira, TEX

2B: Mark Grudzielanek, KC

3B: Eric Chavez, OAK

SS: Derek Jeter, NYY

OF: Torii Hunter, MIN

OF: Ichiro Suzuki, SEA

OF: Vernon Wells, TOR

P: Kenny Rogers, DET
Rodriguez, Teixeira, Hunter, Wells, Chavez, Suzuki and Rogers are all previous winners so they shouldn't be a big surprise. Ok, Jeter has won it, too but there is the ongoing debate (not necessarily fostered by me) about his defense.
But Mark Grudzielanek? Other may know more than me but I've never put Grudzielanek and Gold Glove in the same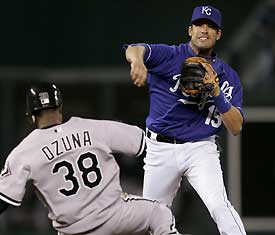 thought. I've always considered him adequate, at best.
Kenny Rogers has won the GG in the last 3 years running now but I think this is a rather ironic pick, no? Kind of a slap in Detroit's face. "See? If you had pitched THIS guy, you wouldn't have had that throwing error.
No tags for this post.