Posted on
October 25th, 2007
by The Baseball Zealot
…but it's still not enough.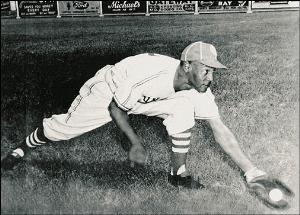 Negro League player, coach and ambassador for the game Buck O'Neil will be honored at the Baseball Hall of Fame and Museum with a Lifetime Achievement award. A statue of O'Neil will be erected near the entrance of the museum.
(MLB Commisioner Bud) Selig noted that a special committee spent 18 months seeking a proper way to pay homage to O'Neil after he was not in the Negro League inductees.
Eighteen months? It took them 18 months to come up with this? Hall of Famer Joe Morgan, who was on the committee, came up with this double speak:
"In some ways it's going to be bigger than getting a plaque in the Hall of Fame," Morgan said, denying the move was made to right what many saw as a wrongful exclusion of O'Neil.
Sure, Joe. Easy for you to say. You have your plaque up in the hallowed halls. Morgan continues:
"I don't think it's really righting a wrong. I think it's doing something for someone who was a great amabassador for the game. That's why you see this."
Ironically, this isn't the only time Joe has weighed in on Buck O'Neil.and the Hall of Fame. After Buck was denied induction a year ago, Morgan addressed the situation the most tactful way he could, " "If you're asking me, 'Do we lower our standards to get more people in?' My answer would be no."
Forget Joe. Let's get Buck O'Neil in the Hall of Fame not just the museum.