Posted on
January 17th, 2008
by The Baseball Zealot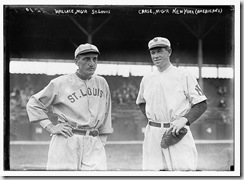 The Library of Congress has posted over 3,000 photos on the popular image sharing site Flickr. The photos have no copyright restriction and are considered public domain.
The interest to us is that many are baseball-related such as the photo at left (Managers Bobby Wallace and Hal Chase in the year 1911). To view them, here is a good place to start. There are some real priceless photos going back to early 20th century.
As part of the project, the LOC wants the Internet community to "tag" them for easy categorizing. I believe the new term for that is "crowdsourcing". If you are so inclined, get involved and help tag the photos.
Here's a Zdnet article on the LOC project.
Browse around. There are some cool pictures to see.
No tags for this post.