Posted on
June 27th, 2008
by The Baseball Zealot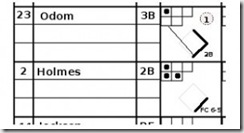 Here's an pretty cool web site I ran across tonight. Coach Bobby B has an extensive tutorial on his web site on how to score a baseball game. I realize I'm preaching to the choir since most reading this site probably have a pretty good idea how to do this but it's interesting and good resource for those newbies learning the game.
Those of us in the Illowa APBA League have a lot of practice scoring games. Unlike other fantasy baseball, APBA is a simulation game. Actual games get played, stats are accumulated and therefore we need to score them.
There are ten managers in our league and we use ten different ways of scorekeeping. Everyone's way is different. Some are incredibly thorough (bordering on anal). Others can fit six games on one side of a sheet of paper.
Anyway, for those who want to brush up on scorekeeping, take a look at How to Score Baseball.
No tags for this post.