Posted on
November 20th, 2006
by The Baseball Zealot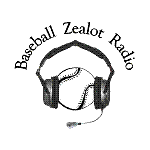 The same people behind The Baseball Zealot are very excited to bring you Baseball Zealot Radio!
BZR plans to be a weekly podcast with the same kind of emphasis that The Baseball Zealot has. Co-hosts Shawn, Tedd, Todd, and Tom will touch on a lot of MLB topics throughout the of-season and into 2007.
Our debut show is an exciting one. Co-host Teddy Ballgame phones in from Arizona where he is soaking up the rays as well as covering the Arizona Fall League. Don't miss this one!
Take a listen to our new endeavor.
The entry point to Baseball Zealot Radio is here.
The RSS feed is: http://www.baseballzealotradio.com/podcast.xml
No tags for this post.