Posted on
December 20th, 2007
by The Baseball Zealot
Back when I became a hard core baseball fan, the one way to get access to data was to wait for the local newspaper to print them. For me it was Tuesday for the NL stats and Wednesday for the AL. Boy, I couldn't wait to open the sports page on those days.
Obviously, things have changed with the advent of the Internet. Now we have any kind of data we want with a few mouse-clicks.
With that, I decided to write a series of posts detailing my favorite reference web sites I use when I want baseball stats, data or any sort of reference information.
A few points before we get started:
Keep in mind that I will be discussing websites which have a focus on stats, data or referential information. Not blogs, team fansites, or general baseball websites.
These sites are not necessarily listed in any order of preference.
I realize that there are the popular ones out there (I'm talking about the big media ones). I'm trying not to focus on them since you probably know about them (chances are you probably know the ones listed too).
In Part 1, I'm going to focus primarily on those web sites that focus primarily on stats. Stay tuned for Part 2 where I will discuss minor league and fantasy league sites.
Well, here goes: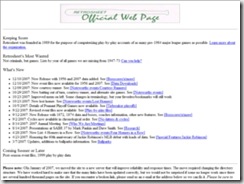 Any talk of baseball stats reference web sites begins with Retrosheet.org. Not only is it useful as an end user site but many sites use the data from it as a back end.
The mission of Retrosheet is threefold:
First is the collection of the game accounts… The second activity is the translation of these accounts to a unified, modern system which is essential since there are an extraordinary variety of scoring systems which have been used. The final activity is the entry of the translated accounts into the computer.
The end result is a compilation of boxscores and game accounts which are accessible by browser or downloadable in database form.
The philosophy behind Retrosheet.org is refreshing if unusual in this day and age.
The ultimate objective of Retrosheet is to make this basic play by play

information publicly available for all interested researchers.
Graphically, there's nothing fancy about Retrosheet. No clickable maps or glowing images. Just honest to goodness baseball data. Do make the effort to check out their Noteworthy Events page, though. It's very interesting.
We managed to have Mark Pankin from Retrosheet on our podcast earlier this year. It's a very interesting show if you're interested in the inner workings of Retrosheet.org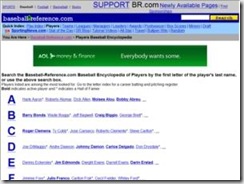 I honestly don't know what I'd do without Baseball Reference. When I doing my APBA replay of the 1979 season B-R.com was indispensable. This baseball stats site has it all. In addition to being organized well, it is very interactive.
Stats are updated daily and are organized by league, team, and player. Historical stats from the beginning of organized baseball can be viewed as well as leaderboards for every stat. We can also view postseason stats, manager records, and awards.
Baseball Award has recently unveiled Play Index which can help determine streaks, events, and splits. Caveat: Some of more intense searches for Play Index require a paid subscription.
One of my favorite blogs is Baseball Reference's Stat of the Day. A dedicated cadre of stat freaks who play around with B-R's Play Index post interesting stat anomalies.
Founder Sean Forman was kind enough to come on Baseball Zealot Radio to talk to us about Baseball Reference in January 2007.
David Pinto who keeps us all up to date on baseball news on Baseball Musings also has a little gem almost hidden away called Day by Day Database. This database is quite handy for:
viewing batting and pitching logs
comparing players stats over a given time
viewing batting, pitching and team splits over a given time
viewing batting and pitching streaks
Again, nothing fancy here but the interface is simple if you know what data you want. As is true for most event databases like this, the data goes back to 1957.
I find this most handy for splits data. With one search, I can find out stats on twelve different splits on Albert Pujols for the month of May 2007. Sometimes, you just gotta know.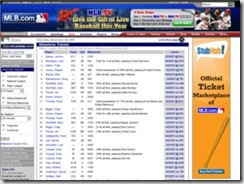 Sometimes the best place to get stats is the horse's mouth. MLB.com's Sortable Player Stats database is run on a robust engine and is very customizable.
Yes, it's sortable on all stats and yes, you can filter by pretty much anything. It covers splits on all levels. However, the one thing that this database does that I haven't seen elsewhere is the Milestone Tracker. This convenient little tool allows you to see which milestones (both who's passing who and passing those all-important numbers) will be met in the coming future or have been achieved recently.
New for the MLB.com Sortable Player Stats: It now covers Winter League stats and Arizona Fall League stats.
Stay tuned for Part 2 where I will be highlighting websites that focus on minor leagues and fantasy baseball.
No tags for this post.