Posted on
December 31st, 2005
by The Baseball Zealot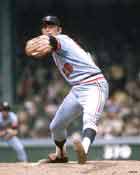 With the voting for the Hall of Fame class of '06 coming up, Bob Klapisch from Baseball Analysts makes a good case for Bert Blyleven. 
My favorite quote from the article that sums it all up:
Finally, it dawned on me: Blyleven was a Hall of Famer not just because of his 3701 strikeouts or 287 wins or a 2.47 ERA in the post-season. It was the uniqueness of his best weapon, the curveball, that set him apart.
I don't need convincing.  I've been a Blyleven believer since he retired.  He's got the stats.  He's got the post-season heroics (Ok, maybe heroics isn't the right word.  But he performed well.)
An interesting web site is bertbelongs.com.    Somebody out there is pushing for Bert.
No tags for this post.