Posted on
March 23rd, 2007
by The Baseball Zealot
I'm on vacation through Kentucky and Tennessee and a stop at the Louisville Slugger Museum and Factory was definitely in order.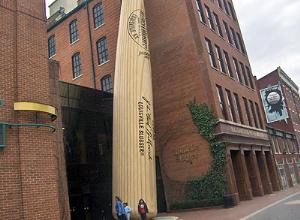 We were lucky enough to go through the museum during working hours so that we could actually see the bats be made in the factory. Unfortunately, the rules are, No Photos Allowed in the actual factory and being a rather rule-oriented guy, I obeyed. It was pretty awesome. The factory was working on the Mets' bats that day and Carlos Delgado's bat was being made while we watched, according to the tour guide.
The tour guide seemed to make digs against the Cubs any chance he could. Either he was a Sox fan or a Cub fan in guise. I vote for the latter considering he would come up to me (in my fine Cubs shirt) and make knowledgeable comments about the Cubs.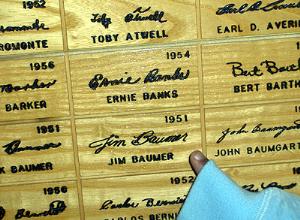 Here's my daughter pointing to Jim Baumer's bat plate. I really wanted her to point to Ernie Banks' plate. She'll learn. I was ignorant of Jim Baumer so I looked him up. Played two seasons separated by 11 years. Very interesting. He was also a White Sox player for his first year in 1949. My daughter knows how to pick 'em.
I'll post more pics when I get home.
No tags for this post.