Posted on
February 12th, 2006
by The Baseball Zealot

Those who read my previous post about Baby Doll Jacobson know that over the Christmas holiday, I found out that I am related to the former outfielder who played 1915-1927.  That was quite exciting for me.  But there was more to the story.
This is in my brother Bill's words:
We drank a bottle of wine at Christmas from the Lavender Crest winery, which is the new winery near Colona. I think the wine we drank may have even been their "Colona Red". The label talks about the town of Colona and some of its famous residents of the past, including Baby Doll Jackson. On a visit to the winery about a year ago, I pointed out the mistaken last name to them, and they already knew about it. They had gotten their information on a website about Colona that had the wrong name on it. Anyway, I think that started the whole converstion about Baby Doll Jacobson at Christmas.
I should pay more attention to my family conversations.  Must have been too busy drinking Glogg or something. 
Well, Lavender Crest is still sellling Colona Red but has corrected Jacobson's last name on the label.  Sort of.  Thanks to Bill for sending me the photos of the wine label.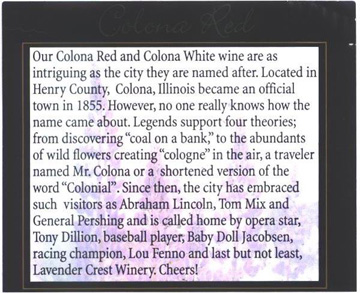 As you can see, the Baby Doll's last name is misspelled.  But at least it's the right name now.  Gracious, you would think if they were that excited about having someone from their small town, they would do their research and get the name right and then when they get it right, they would spell it right.  Just takes a simple Google search. :)
Never did ask Bill if the wine tasted good.  He's the wine connoisseur of the family.
On a side note, through The Baseball Zealot, I've connected up with a great-grandson of Baby Doll Jacobson.  We've corresponded a few times and it turns out it seems he still has family in the area I grew up.