Posted on
September 7th, 2007
by The Baseball Zealot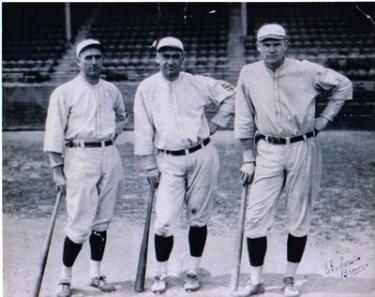 TBZ reader Marty Napier sent this photo to me. It is of the St Louis Browns outfield of 1917. On the left is rightfielder Tod Sloan. On the right is Baby Doll Jacobson who played center. In the middle, we're not sure.
Tod Sloan happens to be Marrty's grandfather. A quick look at Baseball Reference shows that Sloan played 3 seasons between 1913-1919 and 1917 was indeed his big season where he played close to a full year hitting .230 with 32 runs. Interestingly, he was hit by pitch seven times that year.
Baby Doll Jacobson holds a special place in my heart. You can read why in this article I wrote previously.
I think it's a fantastic photo. Even at first glance, it didn't take long for me to pick out Baby Doll. At 6′ 3″, he was one of the tallest players in pro ball in that era.
As for the mystery man in the middle, I suggested to Marty that perhaps it might be Burt Shotton who was the third starting outfielder on the 1917 Browns. Marty conceded that might be the case but did say that he didn't look like Shotton's likeness in later photos when he was a manager. Any guesses by anybody?
Many thanks to Marty for sharing this photo!!