Posted on
December 10th, 2005
by The Baseball Zealot
Well, case closed.  The rare volumes of baseball publication Collyer's Eye, which were discovered stolen earlier this week, were found Tuesday. 
The periodicals were found the day after the story of the loss hit the press.  Apparently, they were "found on a table".  A guilty thief?  I guess. 
 "I was really pumped up," said Schmidt, the UI associate university librarian for collections.
I'll bet she was.  You don't always get so lucky.  The library is already discussing digitizing the volumes so "that anyone can view the works without further damaging them".
The story made all the way to ESPN.  Hat tip to the Little Blog on the Prairie for the link.  LBOTP is a local blog covering the gamut of issues.  Anyway, she questions "Why is it that the UI Library is always making news for losing things?".  I have to admit that was my first thought too.  They said they don't want to dust for fingerprints for fear of damaging the volumes.  Whatever.
Finally, just so we know what we're talking about, here's what Collyer's Eye looks like: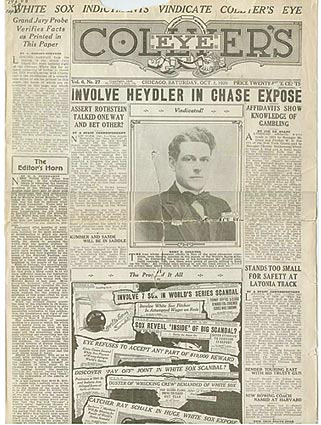 No tags for this post.