Posted on
December 29th, 2007
by The Baseball Zealot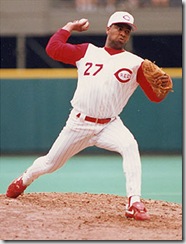 This has got to be a first:
Jose Rijo is considered a first-ballot eligible in the coming Hall of Fame election.
Rijo actually received a vote in the 2001 writer's ballot. Later that year, Rijo made a comeback and pitched for the Cincinnati Reds and pitched for two additional seasons.
With five more wins and 94 more innings (his totals for 2001-2002 seasons), we'll see if he gets TWO votes.
Don't get your hopes up. For the record, his career record shows 116-91 won-loss with a 3.24 ERA.