Posted on
April 14th, 2007
by Teddy Ballgame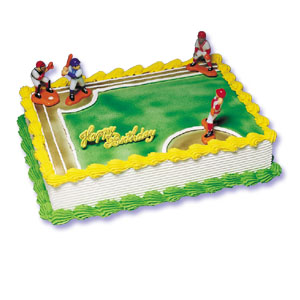 Happy 2nd Birthday
Happy Birthday to you. Happy Birthday to you. Happy Birthday Dear Baseball Zealot. Happy Birthday to you.
Today is the day Lincoln was shot, the Titanic hit an iceberg, and I was born. Today is my 51st birthday and the Baseball Zealot's 2nd birthday.
Other baseball players born on April 14th are Greg Maddux, David Justice, Steve Avery, Brad Ausmus, Jesse Levis, Gregg Zaun, Roberto Mejia, Carlos Perez, Mike Trombley, Jeff Fiorentino, Kyle Farnsworth, John Van Benschoten, Brad Pennington, Paul Hoover, Greg Myers, Chris Welsh, Mark Bomback, Joe Lahoud, Frank Bertaina, Marty Keough, & Don Mueller. Charlie Hustle, the Alltime hits leader, Pete Rose is the most famous baseball player born on my birthday. Bobby Sprowl actually shares the same exact day with me.
Happy Birthday to one & all!!!
No tags for this post.